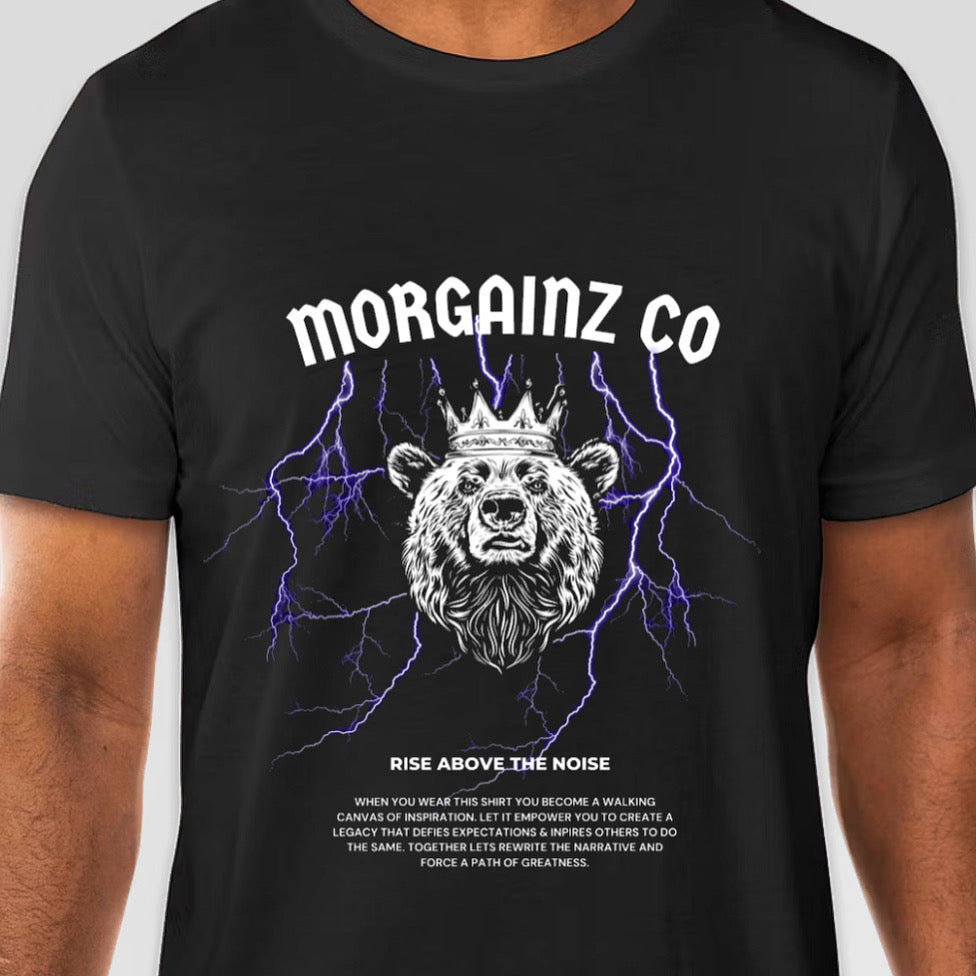 Introducing the "Rise Above the Noise" Tee, your go-to pump cover for effortlessly stylish and motivational vibes. Made from premium cotton, this tee combines comfort and inspiration to elevate your casual look while reminding you to overcome distractions and reach new heights.
Here's why our "Rise Above the Noise" Tee is the perfect pump cover:
Inspiring Slogan: The tee proudly displays the powerful phrase "Rise Above the Noise" in bold, attention-grabbing typography. This empowering message serves as a reminder to focus on your goals, tune out distractions, and push beyond limits, inspiring you to achieve greatness.

Comfortable Fit: Crafted with your comfort in mind, our tee features a relaxed and flattering fit. Made from soft, breathable cotton, it keeps you feeling cozy and at ease throughout the day. Whether you're hitting the gym or running errands, this tee provides the perfect balance of comfort and style.

Effortless Style: The "Rise Above the Noise" Tee effortlessly combines casual appeal with a touch of sophistication. Its versatile design pairs seamlessly with your favorite jeans, shorts, or leggings, allowing you to create various trendy and relaxed outfits. Step out with confidence, knowing you're rocking a fashion-forward look.

Quality Construction: We take pride in delivering products of exceptional quality. The "Rise Above the Noise" Tee is expertly crafted with meticulous attention to detail. Its durable stitching and premium cotton fabric ensure long-lasting wear, so you can enjoy its motivational message for years to come.

Spread Positive Vibes: Wear the "Rise Above the Noise" Tee and radiate positivity wherever you go. Inspire those around you to rise above negativity, break barriers, and pursue their dreams. With this tee, you become an ambassador of motivation, fostering a community of empowerment and resilience.

Versatile Occasions: This pump cover is perfect for various occasions, whether you're hitting the gym, meeting up with friends, or simply running errands. Its effortless style and motivational message make it an ideal choice for both active pursuits and casual outings, ensuring you always look and feel your best.
Choose our "Rise Above the Noise" Tee as your perfect pump cover, and embrace the power to conquer distractions and achieve greatness. Step into a world where motivation meets style, and let your clothing speak volumes about your aspirations. Rise above the noise and seize the day!
Rise Above The Noise Tee